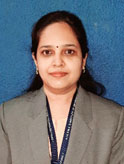 Dr. Mousami Vanjale
IQAC Coordinator
Assistant Professor
Dept. of E&TC Engineering
Email: iqac@aissmsioit.org
Contact no.: +91-020-26058877 Extn. 2099
Internal Quality Assurance Cell (IQAC) is constituted to ensure continuous improvement in teaching learning processes and overall development of the institution.
Quality Policy
We commit ourselves to provide quality education & enhance our students quality through continuous improvement in our teaching and learning processes.
Objectives of IQAC
Planning, monitoring & evaluation for quality improvement.
Analyzing the feedbacks and carrying out the improvements in the institute
Organizing training / orientation programs for staff and students' continual improvement
Optimization and integration of modern methods of teaching and learning
Ensuring the adequacy, maintenance and proper allocation of support structure and services;
Sharing of research findings and networking with other institutions in India and abroad
Functions of IQAC
Development and application of quality benchmarks/parameters for various academic and administrative activities of the institution.
Facilitating the creation of a learner-centric environment conducive to quality education and faculty maturation to adopt the required knowledge and technology for participatory teaching and learning process.
Arrangement for feedback response from students, parents and other stakeholders on quality-related institutional processes.
Dissemination of information on various quality parameters of higher education.
Organization of inter and intra institutional workshops, seminars on quality related themes and promotion of quality circles.
Documentation of the various programs/activities leading to quality improvement.
Acting as a nodal agency of the Institution for coordinating quality-related activities, including adoption and dissemination of best practices.
Development and maintenance of institutional database through MIS for the purpose of maintaining /enhancing the institutional quality.
Development of Quality Culture in the institution.
Preparation of the Annual Quality Assurance Report (AQAR) as per guidelines and parameters of NAAC, to be submitted to NAAC.
IQAC Outcomes
Accredited by NAAC with A grade
Three departments accredited by NBA
Permanent affiliation of four departments to SPPU
Best Principal (Urban Professional College) Foundation Day Award by Savitribai Phule Pune University in 2020-21.
Gold Category 2020 as per AICTE-CII Survey of Industry Linked Technical Institutes 2020.
Best Private Institute in a survey conducted by BW Business World in 2018-19.
Best Principal of the year award by Computer Society of India, Mumbai Chapter, 2018
The institute is recognized by AICTE for "Best practices in Education" in 2018.
Bhartiya Vidya Bhavan National Award for Best Engineering College Principal by ISTE, New Delhi, 2017.
Best College in Pune by Fire and Security Association of India 2017-18.
Student Forum of IETE (Electronics and E & TC) and CSI (Computer) Received Best Students' chapter award for 3 times.
Engineering Education Excellence Award by Indo-Global chamber of Commerce Industries and Agriculture in 2015.
Best Private Engineering College Award  from ISTE, New Delhi in 2015.
Institute ranking
The institute is ranked 188 by "India Today" in 2020.
The institute is ranked 79 by "Outlook" in 2020.
The institute is ranked 93(private) and 104 (overall) by "Times Engineering Survey" in 2020.
The institute is ranked 19 (west) and 103 (overall) by "Week Magazines" in 2020.
The institute is ranked 180 by "India Today" in 2019.
The institute is ranked 85 in Private and 101 in overall by "Times Engineering Survey" in 2019.
The institute is ranked 172 by India Today-2018.
10 Best Private Educational Institute of India" in a survey conducted by "Knowledge Review Magazine", Mumbai in 2018.