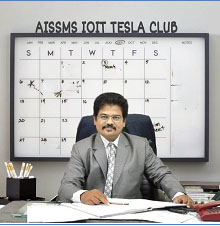 Dr. Yogesh P. Patil
T.E.S.L.A. Coordinator Designation- Associate Professor
Qualification – MSc Ph.D (Polymers)
Experience – 15 years
Email- yogesh.patil@aissmsioit.org
Phone: 02026058877 #2025
Aim: The club activities intend to identify technical problem statements from society to provide convenient, affordable real time solutions. T.E.S.L.A. (Technical Empowerment through Social Learning Abilities) founded in 2016 under the guidance of Dr. Pradeep B. Mane (Principal, AISSMS IOIT). T.E.S.L.A. Club works adopting multidisciplinary and reverse engineering principles. We have identified 30+ projects so far. The club has provided technical solutions with the help of students of the institute. The club has its major contribution in the field of Smart Farming, Health Care, Renewable energy and Water Technology. T.E.S.L.A. promotes participation of student members in various competitions. The members of the club have bagged international and national awards, which includes IEEEE YSISIT 2019 held in Thailand, Best Paper awards (2017 & 2020), Makethon (2018), Best Researcher Award (2019), A.I.S.S.M.S. Award of Excellence (2019). The club has attracted funding from renowned agencies like AICTE, IEEE, and AISSMS. The club has signed a MOU with GGP (Pani Panchayat) Khalad.
The USP of T.E.S.L.A. is the active support rendered by the alumni of AISSMS IOIT.
OBJECTIVES
Technical Empowerment through Social Learning Abilities (T.S.L.A.) wishes to enable students –
To identify shortfalls in the ways and techniques adopted by people in their surrounding
To formulate problem statements out of the shortfalls observed
To brainstorm on finding out the probable solution for the problem identified
To propose a solution
To work in a team of experts from different sectors of knowledge; multidisciplinary exposure
To be responsible and accountable
OUTCOME
Outcome of the Student Development Organization Student will be able to:
explore all possibilities to realize their full potential as engineering student
employ their technical knowledge and social awareness to make human life better
work individually and in group with understanding of moral values and to develop interpersonaland social skills
draft technical report
understand significance of interdisciplinary approach to a problem
present their team work as a technical solution
Club Profile: Since March 2020, entire nation is more or less in a state of lockdown. The COVID-19 pandemic has created the largest disruption of education systems in history, affecting nearly 1.6 billion learners in more than 190 countries and all continents. The health and wellbeing of students, staff, faculty and the broader community remains the key principle guiding policymakers for catering educations.
The second wave of COVID-19 is currently setting records. Globally and nationally, daily case counts have exceeded the peaks. In Pune, we are seeing increases in the percentage of people testing positive for the virus, confirmed cases, hospitalizations and deaths. The Local Governing Body and The Public Health Agency have projected that cases per day could reach even higher if we increase social contacts. Across the country more restrictive public health measures have been implemented in many regions.
At the same time, there have been promising developments in immunization. Multiple vaccines have been approved for use and vaccination programs are rolling out across the world. At present, the pace at which immunization will proceed is unclear; however, it is expected to be at least September before the majority of citizens will be vaccinated. Until such time that the majority of our community has been vaccinated, the best way to protect the health and wellbeing of students, staff, faculty, and the broader community is to continue to limit close personal contact. Public health guidelines regarding physical distancing will continue to significantly limit the capacity of campus spaces. Till then no experiments in laboratory would be conducted. No site visits would be scheduled for students and staff. However the club has continued to apply for funding, raising new applications, and brainstorming for identification of probable problem statements. Recently couple of applications has been submitted to IEEE through Student Branch. Students are promoted to participate in virtual competitions.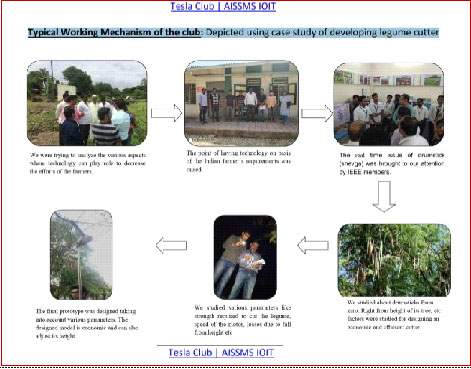 Action Plan-2021: With funding received from IEEE and AISSMS last year, the club targets to engage more and more students for techno social activities. Identified key areas to focus on: 1) Showcasing the achievements of the club in the form of video, power point presentation and giving wide publicity to the recent achievement of the Machine Developed for fighting against COVID19 spread. 2) Organizing technical competitions to attract the budding engineers. 3) To organize Panel Discussions on engineering solutions for different social issues ranging from kitchen to space science including the agriculture. This will help engagement of expertise from various technical fields with the club.
Collaboration and Association: Already, the club has signed and MOU with a well respected NGO, Gram Gaurav Pratishthan, which is working for farmers since 1970. It has helped the farmers to utilize the
available water by using controller based automated gate system developed by the club. Also the club could design a solar panel based alternative power supply system for the NGO Office set up in the village. Accordingly the club is looking forward to get in association with industries to provide solutions to their live problems with the help of intern engineers, the student members of the club.
Expected outcomes and benefits to the students/Institute: The students will get exposure in a way to implement the knowledge gained through classroom teachings. The staff members associated with club and involved with students would get a chance to promote out of box thinking of the students at enhanced level. Student may open a career avenue in the form of start up. Students with boosted confidence level and better employability skills would be generated. Institute could earn name and fame as recently got international recognition at Thailand.