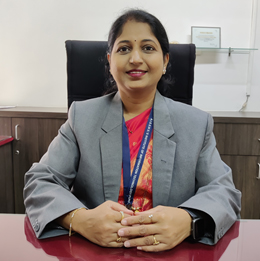 Greetings from the Instrumentation Engineering Department!!  The department is established in the year 1999. The vision of the department is to be well known department that will serve as a source of knowledge and expertise in the field of Instrumentation for the society by rendering value added education to the students. The department's mission is to impart dynamic education and develop engineers, technocrats, and researchers to provide services and leadership for development of the nation.
To integrate knowledge and hands on skills, we established three centre of excellence namely 'Emerson centre of excellence', 'Forbes Marshall centre of excellence ', and 'Centre of excellence in industrial automation training.' The department has 8 well equipped laboratories including advanced equipments for project and research work. Various grants have been sanctioned to faculty members by BCUD, SPPU, and AICTE for research work, MODROB as well as for organizing workshops and FDPs. All these achievements of the department would not have been possible without the enthusiastic and dedicated work of our past and present faculty members.
To bridge the gap between industry and academia, faculty members connect to industries through i- Connect activities like industrial visits, expert lectures, sponsored projects, workshops, training, MOUs with renowned industries. It provides internship and placement opportunities for students. The department endeavours to produce confident professionals tuned to real time working environment. Our major recruiters are Emerson, Honeywell, Johnson Control, Thermax, L&T, Capgemini, TCS, Infosys etc. Our alumni have made excellent contributions in various fields like industry, entrepreneurship which aids the department to be well-known globally.
To promote co-curricular activities in students, department has strong association with different professional bodies like International Society of Automation (ISA), Fire and Security Association of India (FSAI), Institute of Electrical and Electronics Engineering (IEEE), and Indian Society of Technical Education (ISTE). The department has its own student association named as Instrumentation Student Association for Technical Society (INSAT).  INSAT provides a platform to students to showcase their technical, social and sports skills which leads to the overall professional development of students.
We are confident that in years to come Instrumentation department with its rigorous efforts, well established processes, innovative teaching learning practices, and active participation with industry will enforce the reputation of the department as well as the institute as an enviable seat of higher learning.
Dr. A. A. Shinde
Head, Instrumentation Engineering Department
instrumentationdept_hod@ aissmsioit.org
Phone: 02026058877 (Ext. 2701)