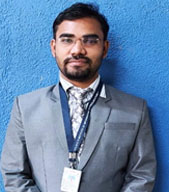 Name: – Mr. Devendra A. Itole
Innovations, Incubation – Entrepreneurship Development Cell Coordinator
Designation: Assistant Professor
Qualification:-B.E. (E&TC), M.E. (E&TC), Ph.D. (Pursuing)
Experience:-13 Yrs Teaching
Email: – devenmdra.itole@aissmsioit.org
Mob.No.-9421173078
About IIED Cell
With increase in population, the number of students enrolled for professional courses has increased. Most of the students ideally expect to seek job opportunities in best companies, with best profiles and best pay packages. Most of the well-known, established companies are saturated with sufficient and suitable manpower required for the fulfillment of the projects available with them. New companies MUST be established to get more employment opportunities and absorb employable new aspirants.  It has become difficult for the new aspiring candidates to secure suitable job opportunities in reputed organizations as per their interest and choice of their domain knowledge. These aspirants end up in doing the jobs, which they never thought of, never wanted for. To overcome these debacles, students must do their SWOT analysis and choose their streams of education and career wisely. Entrepreneurship as a career option is the need of the hour and must be thought of at an earlier stages of education and career. To understand and meet the innovations, entrepreneurship challenges, we need to create an Entrepreneurship Ecosystem. The aspiring candidates with entrepreneurial potential must be a part of this ecosystem and must be incubated to learn the tricks of the trade/ entrepreneurial journey.
IIEDC- Vision
Innovation and Entrepreneurship Development Cell (IIEDC) aims to promote the innovation and entrepreneurship culture among student, faculty and staff in sectors of Science & Technology by offering industrial solutions that will contribute in the development and progress of the society.
IIEDC- Mission
To create awareness and provide guidance to academic and non-academic staff, students, research scholars, and outside agencies on the practices and to promote innovations leading to new processes, products, designs and technologies in collaboration with industry within the frame work of the IPR policy of the institute.
IIEDC Objectives
The main objective of this cell is to train and motivate the students to become Job Creator rather than Job Seekers.
Other objectives include:
To motivate, support and mentor students for identification, development and commercialization of their innovative ideas from conceptual stage to start ups.
To give opportunity to prospective students to bring out innovative ideas through competitions and brainstorming. Exploring innovative and creative thoughts, ideas, or concepts from students, research scholars, faculty members from various domains of society as well as industry.
To organize guest lectures, expert's talks for start-ups and patents.
To organize the business plan completion/ innovation camps/ hackthons with active involvement of Industry.
To guide and assist prospective starts ups, entrepreneurs on various aspects of such as preparing project report, obtaining project approvals, loans and facilities from various government and nongovernment agencies of support system, information on technologies, etc.
To arrange interaction with entrepreneurs, bankers professionals, potential customers and create a mentor ship scheme for student innovators.
To facilitate creation of entrepreneur's club to foster culture of entrepreneurship amongst the students.
To conduct the training programs on various aspects of entrepreneurship relevant to industries and need of society.
To develop mentor and counsellors.
To organize fares and exhibitions to exhibit the start-ups incubated in the College.
To nature innovators and their innovations.
To support researchers to prepare patent documentation and filling of patents.
To take affirmative action for the sustainable development of physically challenged and students from weaker sections of the society.
IIEDC Policy
I) Pre-Incubation:
Orientation of IIEDC and allied activities to stake holders (Students , Staff etc)
Listing of interested stake holders (Students ,parents, Staff, industries etc)
Must visit all ED relevant organizations, incubation centers etc
Active participation of stake holders for IIEDC and allied activities
Must gain domain knowledge ,IPR, Marketing , Sales, Finance, Company registration, compliances etc and conduct mock / actual drives for the same
Inculcate habit of regular saving, necessary optimized utilization of funds/all resources and   reinvesting
Formation of Committees/Teams with Well Defined Roles and Responsibilities
Survey, Understanding the needs of Society/Industries /Stake Holders
Brainstorming
II) Incubation:
Identification of needs/gaps of Society/Industries /Stake Holders
Signing of NDA and an agreement for further developments with stakeholders/problem stators/Identifiers/Investors/Solution Demanders
Advance payment from stakeholders/problem stators/Identifiers/Investors/Solution Demanders
No Loans ,No Borrowing of funds on interest
Inculcate habit of regular savings of necessary optimized utilization of funds/all resources and Re – investing
Brainstorming and understanding the root cause/causes
Defining the problem statement
Presentation before the experts/advisory committee for suggestions and necessary approvals
Do the Feasibility check , constraints and resources
Planning of resources
Formation of Committees/Teams with Well Defined Roles and Responsibilities
Develop a proof of concept in association with stakeholders/problem stators/Identifiers
Create a prototype in association with stakeholders/problem stators/ Identifiers/ Investors/ Solution Demanders
Validate the prototype
Development of product/service or both ( on receiving P.O and full payment )
III) Start-Up:
Complete the procedures, compliances and Register a Startup
Formation of Committees/Teams with Well Defined Roles and Responsibilities
Follow Business Norms and Etiquettes
Produce/Serve that which has a market demand and can be sold easily
Be the Opportunities Vultures
Start by trading and B2B activities
Expand the business by associations with concerned organizations and business entities
Keep your customers satisfied and delighted
Get Repeat Orders
Do not have receivables , recover payments at earliest
Inculcate habit of regular saving, necessary optimized utilization of funds/all resources and Re – investing
Reserved funds to the EDC Ecosystem/facilitators/Mentors/Investors/Stakeholders. Keep the ecosystem alive for the successive, upcoming starups
Always be associated with the ecosystem, give valuable inputs, keep the ecosystem updated
Important Understandings/Norms/Rules:
IIEDC is an institutional Ecosystem for entrepreneurship development. It will just act as Facilitator and will not be subjected to Financial, Legal OR Any kind of Liabilities of the entrepreneurs/ startups/ Team members/ Business partners/ Industries / Investors/ stakeholders.
Stake of IIEDC/Mentors/stakeholders in the entrepreneurs ventures/startups will be from 2 to 9.5% of their overall turnover or profit share ,depending upon case to case basis or as approved by the IIEDC Panel/Committee.
IIEDC developed innovative projects/startups will share joint IPR (Intellectual Property Rights) and have stake in equity/shares.
Relief in attendance, paid sabbaticals, leaves, flexible Work Timings and geographical locations must be given for the teams working on IIEDC innovative projects/start-ups.
To bring and maintain socio-economic equality in our society/Nation, priority and due considerations will be given to the students/stakeholders of the weaker sections.
All students/staff, stakeholders will have to undergo test/suitable checks and follow due procedures before enrolling to IIEDC and exit from the same.
It is mandatory for all students/staff, stakeholders to observe, maintain silence, rules & discipline at IIEDC, College premises and all other relevant places and do not cause damages in any forms.
IIEDC Structure
IIEDC Advisory Panel:
Sr. No.
Committee Members
Designation
1.
Mr. K.G. Dekate
General Manager, District Industries Center, Pune
2.
Mr. Suresh B. Umap
Regional Officer- MCED, Pune
3.
Mr. R. S. Godbole
Ex-Asst. Director, Employment Exchange and skill Development Department, Pune
4.
Mr. Rajan Shringarpure
Ex-Managing Director, Vishay Components India Pvt. Ltd. , Pune
5.
Mr. Chandrashekhar Bhosale
Vice President, Entrepreneurship Training, MITCON Consultancy and Engg. Services Ltd.
6.
Mr. Jaywant Mahajan
Director, GetMy Solutions Pvt. Ltd.
7.
Mr. Soumitra Ghotikar
Director, Joy Web Services Pvt. Ltd.
8.
Mr. Suneet B. Sabale
Reg. Patent Agent, Founder, Director and CEO Brainiac IP Solutions and Global Consulting Pvt. Ltd.
9.
Mr. Pratik B. Janrao
CA, Pratik Janrao and Associates
10.
Dr. P. B. Mane
Principal, AISSMS-IOIT and Chairman IIEDC
11.
Mr. Kunal Ranveer
Director, Adolf Solutions, Technical Team Lead and Co-Coordinator
12.
Mr. N. D. Gaikwad
CEO, IIEDC-RISE
13.
Mr. Nandan Ghawate,

Mr. Shubham Mittal,

Mr. Prashant Sahay

Alumni AISSMS IOIT, Entrepreneurs
14.
Mr. Yash Gawade,

Mr. Pranav Dalvi,

Mr. Gaurav Sonawane,

Ms. Tejashree Nikam

Ms. Krutika Kharde

Team and Student Coordinators IIEDC
Institute Level IIEDC Committee:
| | | |
| --- | --- | --- |
| Sr. No. | Committee Members | Designation |
| 1.        | Mr. Devendra A. Itole (E&TC) | Coordinator (Assistant Professor) |
| 2.        | Dr. Nidhi Sharma (F.E.) | Member (Assistant Professor) |
| 3.        | Ms. Saba. M. Shaikh (Electrical) | Member (Assistant Professor) |
| 4.        | Dr. Rakesh B. Dhumale  (AI&DS) | Member (Assistant Professor) |
| 5.        | Mrs. Prajwal S. Gaikwad (Computer) | Member (Assistant Professor) |
| 6.        | Dr. Mrunal Kishor Pathak (IT) | Member (Assistant Professor) |
| 7. | Ms. S. V. Kulkarni (Instrumentation) | Member (Assistant Professor) |
Expected Outcomes
The expected outcomes of the IIED Cell are:
Short Term Expected Outcomes:

Nurture culture of innovation in the institute
To promote entrepreneurial culture and passion among students through entrepreneurial activities
Motivate students to develop their own startups
Long Term Expected Outcomes

Create corpus fund for innovators
Develop business incubators
Develop eco-system for budding entrepreneurs