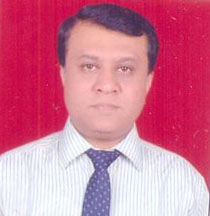 Name: – Mr. Hemant P. Chaudhari
Faculty Knowledge Forum Activity Coordinator
Designation: – Assistant Professor
Qualification: – BE (Instrumentation), M. Tech (Biomedical Instrumentation)
Experience: – 24 Yrs. teaching
Email: – hemant.chaudhari@aissmsioit.org
Mob. No.: – 9307523421
Sr. No.
Name of the faculty member
Department
Designation
1
Mr. H. P. Chaudhari
Instrumentation Engineering
FKF Coordinator
2
Ms. A. S. Phapale
Information Technology Engineering
FKF member
3
Ms. Veena Bhende
Computer Engineering
FKF member
4
 

Ms. P. S. Shahane

Artificial Intelligence and Data Science Engineering

FKF member
5
Mrs. Versha K. Patil
Electronics and Telecommunication Engineering
FKF member
6
Mrs. Sujata N. Powanikar
Electrical Engineering
FKF member
7
Mr. M. B. Nigade
First Year Engineering

FKF member
It is started in the year 2018-19.  Knowledge forum is a faculty members' group activity formed to support the process of knowledge building. In knowledge forum, either individual or group of faculty members can share the information/knowledge and build network of new ideas.  By contributing to a group, faculty members' ideas/knowledge become part of the community's knowledge – then the knowledge become "ours" instead of "mine.".  In knowledge forum, faculty members share the knowledge gained in various technical workshops, seminars, FDPs, Industrial tours on recent trends/emerging technologies in the respective fields. It is not limited to the technical discussion but general knowledge gained by reading historical books, novels, watching good movies can also be shared with other members.
AIM
To share the new knowledge and to build strong and healthy relation among faculty and staff members.
Objectives:
To scale-up knowledge and skills of faculty members.
To share knowledge leads to innovation and growth
To establish sound relationship (social contacts) among faculty members.
To strengthen the mutual communication among teachers.
To provide extrinsic motivation to faculty member to explore more new areas and domains of knowledge with the spirit of sharing it with peers.
Outcomes:
Faculty member will be able to
work as a member in diverse team.
contribute to society by sharing his knowledge.
face the group of professional people.
discuss his personal doubts to other faculty members which will help in his/her teaching