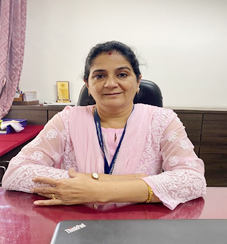 About the department/ stream:
Electronics and Telecommunication, most popularly known as E&TC, is one of the most popular engineering branch among Indian Engineering aspirants. E&TC is not like any other branch where human thoughts will be executed by machines but you are one who can create machine. E&TC does not teach you only Electronics, Communication, Microcontrollers etc but it also teaches to mentor others as this branch mostly contribute in a supporting role or controlling role to other branches. The course deals with design, testing, manufacturing, analysis and research of electronic and communication circuits.
Our institute, AISSM IOIT is providing Four-year degree course in E & TC Engineering under Savitribai Phule Pune University, Pune. The academic program is divided into 8 semesters. The course consists of classroom lectures, practical lab sessions, Tutorials, Projects, etc. Industrial visit and training program, Social visits, Industry sponsored Projects etc are the integral part of curriculum/academics.  .
The department's speciality and expertise of the students:
E&TC Department is proud with 4 divisions, 60 students in one division. Department has well experienced staff with average experience of 15 years with PhD in different areas and many are pursuing PhD. Well-equipped labs with the investment of more than Rs.15 cr  and great facilities are the remarkable specialities of the department. Department has received funds for Agricultural Development lab by IEEE Pune section, Texas Lab by Texas Instruments. Management has supported for Semi-Automatic PCB design Lab required for Mini project and Project work. Department has signed MoU with various Organisations, to mention few such as Texas Instruments, BSNL, TSSC, KVK Baramati etc. Under this MoU students are doing good quality projects, various expert lecture, training programs and Entrepreneurship program are conducted for the students. IIT Powai also sponsored hardware lab which is very much useful for the students to do the projects on advance topics.  Management is also supporting department for such activities under i-connect scheme.
For the students of 3rd year, internship is made compulsory in order to acquaint them to industry atmosphere. This helped the students to get company sponsored projects and many of the companies offer them jobs also. Students are motivated to participate in curricular as well as extra-curricular activities. These activities are performed under various professional body like IETE, ISTE, IEEE. At the department level TESA association is formed by the students, for the students. Under this association students are encouraged to arrange as well as participate in different curricular and extra-curricular activities. Students are also part of various Government competitions/Scheme like IITDC, ISRO, DRDO, ARDE, CDAC, MSEB, Bharat Forge, BSNL, IIT, BAJAJ, NCL and many more. The graph of number of achievement of students with respect to total number of students is exponentially increasing every year. Students are also part of Research and Development Cell developed at college itself and motivated for entrepreneurship.
Future scope and opportunities in the domain:
E&TC branch is backbone of all branches. Students can adopt the job in Software, Hardware, Communication, Networking, IOT, Embedded, VLSI, Automation etc and apart from job, they can be very good entrepreneurs. Our department students proved to be very good successful first generation entrepreneurs.
Numerous Government as well as private job opportunities exist in front of E & TC Engineers. Pursuing Master's course will help one in taking up teaching job.
Some of the well- known Government sector recruiter's are:
BHEL (Bharat Heavy Electricals Limited)
BEL (Bharat Electronics Limited)
BSNL
DRDO (Defence Research and Development Organization)
Indian Armed Forces
HAL (Hindustan Aeronautics Limited)
ISRO (Indian Space Research Organization)
Prime Recruiters in Private sectors are:
Reliance Communications
TCS
L&T Infotech
Wipro
Infosys
IBM
Deloitte
General Electric
Startups
Samsung
Sony
Bosch
Aviation firms
Intel
Special achievements:
E&TC department students are very active in curricular, extra-curricular activities, sports, technical, non-technical activities. Because of their contribution department received Best department award consecutively for 3 years from IETE. Our College has received Best Engineering College award from ISTE. Department students could get first prise in final round of project competition organised by IEEE which was held at Malasia, Students represented for Hackathon held at Jaypur and other places. College students won consecutively for 3 years very reputed MindSpark – Annual Technical Festival, organised by College of Engineering, Pune. Many of the students filed their projects for patents. Few of the projects are started at 2nd year and continued for their final year project.
E&TC Department is actively involved in NSS (National Service Scheme) and doing projects and social work under NSS. One of the NSS students was selected for state level Republic Day parade and represented at Mumbai on 26th January.
Why should students choose AISSMS rather than any other college for this specific field?
AISSMS IOIT is among top 10 renowned college in Pune region situated at prime location. Our college is blessed with the Vision and Mission of our President, Chhatrapati Shahu Maharaj and Secretory, Chhatrapati Maloji Raje, Kolhapur. Department is blessed with senior faculties, available for the students at any time. Laboratories are open beyond working hours and can work on hardware and software projects sponsored by Texas Instruments, IIT Powai, KVK Baramati, Affordable agriculture Lab sponsored by IEEE.
Students will get the benefit of central location as Railway station and Bus stop is nearby with frequent train and bus facility. College has very good girls hostel and boys hostel with college bus facility.
Dr Mohini Sardey
HOD-Dept of E&TC Engg.
9881409100