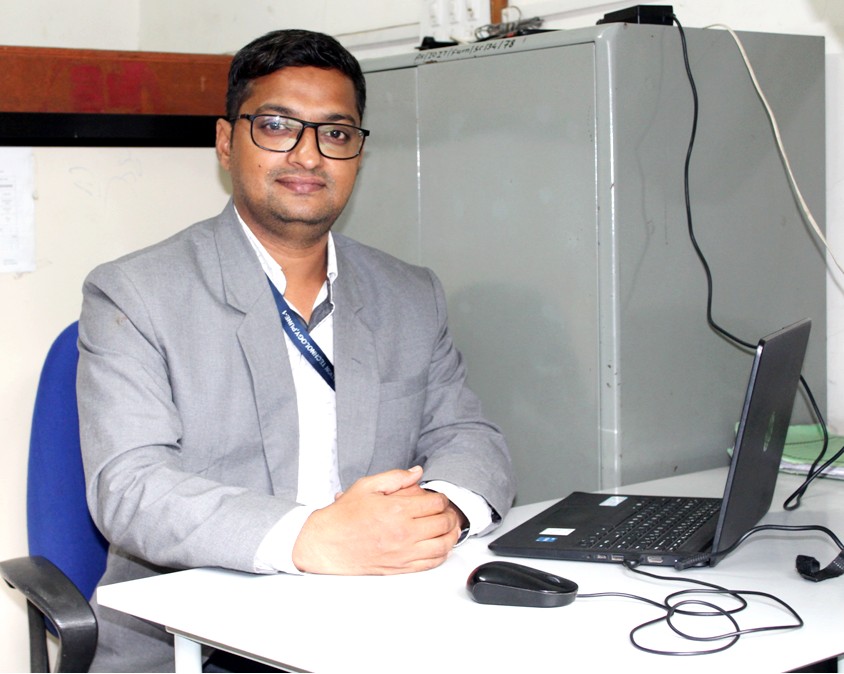 Dr. Amol Deshmukh
International Partnership Cell Dean
Designation: Assistant Professor
Qualification : Post Doctorate
Experience: 8 Years
IPC members
| | | |
| --- | --- | --- |
| Sr. No. | Name | Designation |
| 1. | Dr. A. R. Deshmukh | Dean |
| 2. | Ms. M. B. Thorat (IT) | Member |
| 3. | Mr. S. R. Nawale (Computer) | Member |
| 4. | Ms. S. A. Dhurgule (AI&DS) | Member |
| 5. | Ms. K. S. Gadgil (Electrical) | Member |
| 6. | Mr. S. B. Pokharkar (E&TC) | Member |
| 7. | Ms. S. R. Garthe (Instru) | Member |
The aim of International Partnership Cell (IPC) of our institute is to provide global exposure to our students and staff members and to help them to transform into global citizens.
IPC is constantly working for internationalizing the domain of education. It aims to develop opportunities involving student and faculty exchanges that may open up more and more joint research collaborations in future.
IPC emphasize on cultivation of strong links with prestigious foreign universities for promotion of various internship programs for undergraduate students. The practice will ensure motivation among students for higher studies and research abroad.
The specific objectives of IPC are: 
To cooperate with foreign universities for further development of the institutions, especially with regard to academic programmes, research activities and Ph.D. supervisions.
To provide faculty, students and staff with an opportunity to increase their intercultural competence by joint research programs.
To facilitate study tours to foreign universities and staff/student exchange program.
To organize summer school programs and internship program for faculty and students in foreign universities.
To help and guide students for selecting appropriate foreign university for pursuing higher education abroad.
To organize lectures sessions and seminars by experts from foreign universities.
Outcomes-
UG Fellowship Program-
To provide global exposure and learning and to inculcate research culture, institute has taken a major step to initiate UG Fellowship program. Under this program student are opting for research fellowship in international universities on latest technology and research projects.
Fellowship opportunities are hyper-focused on the fellow's professional skills. It allows the fellow to sharpen their skills in a new environment and new setting, while maximizing their impact. Each fellowship project is created based on the needs of the host organization abroad. Individuals are then matched to the fellowship opportunities based on their skill set and interest, making the individual stand out. Fellowships are unique in the sense that each project allows flexibility in the fellow's time, interest, skills, and goals – so they can go when is best for them! Fellowships offer unique opportunities for one-on-one hands-on field experience, really allowing the fellow to dive deep into the work they are doing.
Global Academic Internship Programme (GAIP)-
Global Academic Internship Programme  helps under graduate experience, learn and explore global career benchmarks with two of the world's top 15 universities and industry experts from leading MNCs. Participants complete a course elective at Nanyang Technological University (NTU), Singapore, learn from and interact with subject matter experts and gain invaluable hands-on experience. Industry visits and interaction are an integral part of the course work.
Educational Study tours to Foreign Countries-
To acquaint students with intricacies of education, culture and business operations in foreign land we have been motivating and taking our students to global educational pilgrimage. Student teams visit premier foreign universities and have experience in global education system and business culture.
Staff Exchange Program-
The International Staff Exchange Program is an innovative program that supports international professional development opportunities for full-time staff. It offers participants staff the opportunity to broaden their professional perspectives through global job-shadowing experiences at participating host institutions.
 Evidence of Success
Under UG Fellowship program our students have completed research project from prestigious foreign universities of Italy and Greece.
Institute has also actively sent its students for Global Academic Internship Programme (GAIP) which is a short-term academic internship program conducted by National University of Singapore and Germany. It enables engineering undergraduates of Asia to pursue their passion and interest through internships on recent technologies.
Institute has also organized study tours to foreign universities under which students have visited countries of European Union. This tour also includes educational tour to Darmstadt University of technology, Germany where students interacted with university staffs and students.
To observe teaching pedagogy and to experience education style institute has also taken initiatives for faculty exchange program. Faculties of our institute visited Staffordshire University in UK under UKIERI Program.
| | |
| --- | --- |
| | |
| AISSMS IOIT MoU with Foreign Universities | Interaction and visit of Mr. Mattt Christie (UoH,UK), Dr. Paul Elliott (UoH,UK) after Mou with University of Huddersfield, (UoH) UK and AISSMS Date 6-7 Feb 2017. |
| | |
| --- | --- |
| | |
| Dr Neil Heart, Department of Computing, Staffordshire University, UK  , Mr John Bunter,UK Trade and Investment  and Honrary Secretrary AISSMS Capt Shivaji Mahadkar during MoU between Staffordshire University, UK and AISSMS Society Date 1st December 2011. | Mr Peter Beckingham,Deputy high Commisioner ,UK  & Dr Neil Heart, Department of Computing, Staffordshire University, UK  , Mr John Bunter,UK Trade and Investment  and Honrary Secretrary |
| | |
| --- | --- |
| | |
| AISSMS Capt Shivaji Mahadkar during MoU between Staffordshire University, UK and AISSMS Society Date 1st December 2011. | Four Staff Members — Sachin Shelar, Mousami Vanjale, Hemangi Shinde, Minal Zope visited Staffordshire University, UK, under the grant of UK India Education Research Initiative (UKIERI) Dates form: 26 Jan 2013 to 14 Feb 2013 with Grant: 3000£ each. |
| | |
| --- | --- |
| | |
| Indo-US Education Colloquium 2013 organized by AISSM Society on 5-6 February 2013 MoU signing with University of Northern IOWA & IOWA state University with AISSMS IOIT. | Indo-US Education Colloquium 2013 organized by AISSM Society on 5-6 February 2013 MoU signing with University of Northern IOWA & IOWA state University with AISSMS IOIT. |