About the i-Connect (Industry Institute Interaction Cell):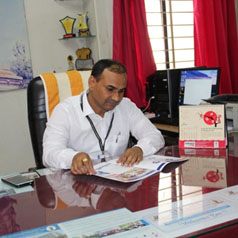 Prof. V N Ghodke
iConnect Incharge
Designation : Assistant Professor
Qualification: BE (Electronics)
M.E.(Electronics – Digital Systems)
PhD pursuing in E& TC Engineering
Experience : 23 years
About the i-Connect: The motive is to encourage each faculty to interact with industry in all possible ways with the spirit of deriving mutual benefit and growth of industries as well as institutions. It provides the best platform for showcasing the best practices, latest technological advancements, and their implementation and impact on the industry. Visits of faculty to industry for study and discussions or delivering lectures on subjects of mutual interest.
Also promotes industry experts to continuously partake in career development programs and employability skill enhancement programs which play a significant role in honing the skill set of the students inclined towards the expectation of the industry.
.Objectives:
To give industrial exposure to Faculty members and students, thus enabling them to tune their Knowledge to cope with the industrial culture
To explore and identify common avenues of interaction with industry
To Establish Centre of Excellence by Industry/ Corporate to Provide Real Time exposure on Technologies
To promote various research activities by the faculty members and students.
To establish convergence with industrial and research organizations from various fields through MOUs as a form of interaction.
To assist the Departments in organizing workshops, conferences and symposia with joint participation of the industries
Encouraging Engineers from industries to visit institution to deliver lectures
To organize industrial visits for Faculty members and students
To coordinate/ identify industrial partners for proposing 'Centre for Excellence'.
To assist the Training and Placement Cell
Visit of industry executives and practicing engineers to the institute for seeing research work and laboratories
Practical training of students in industries
Constitution of the i-Connect:
| Sr. No. | Name | Role |
| --- | --- | --- |
| 1 | Dr P B Mane | Principal |
| 2 | Mr Venkat  Ghodke | iConnect Incharge |
| 3 | Dr Rakesh Dhumale | Member-AI-DS |
| 4 | Mr Sagar Pokharkar | Member –E&TC Engineering |
| 5 | Mrs Shubhangi Landge | Member – Electrical Engineering |
| 6 | Mrs Jayshree Pasalkar | Member –Information Technology |
| 7 | Mrs Prajwal  Gaikwad | Member – Computer Engineering |
| 8 | Mr Chitralekha Rannaware | Member–Instrumentation Engineering |
| 9 | Mr Al Abdul Khayyum | Member–Engineering Science |
Roles of iConnect (Industry-Institute Interaction Cell)
To collect and update industry database from all faculty members.
To help final year students to get industrial sponsorship for projects.
To establish liaison with industries for organizing visits, case studies, guest lectures and projects etc
To coordinate industrial training for students, faculty members and technical support staff.
To identify industries for collaborations (MoU).
To maintain copy of MoU and documents of activities related to outcomes of MoUs of all departments centrally.
To maintain records and documents of activities related to iConnect.
To maintain and provide necessary data and documents as per the requirements of NBA/NAAC/AICTE/SPPU/NIRF/Surveys etc.
| | |
| --- | --- |
| | |
| Memorandum of understanding (MOU) between Department of E&TC Engineering, AISSMS Institute of Information Technology, Pune & CAREERLABS Private limited, Bangalore AICTE Official Partner on NEAT 2.0 Platform on 26.2.2021 | Memorandum of understanding (MOU) Between Department of E&TC Engineering, AISSMS Institute of Information Technology, Pune & ETHNUS Consultancy Services Pvt. Ltd. Bangalore on 1.2.2021 |
| | |
| --- | --- |
| | |
| Memorandum of understanding (MOU) Between Department of E&TC Engineering, AISSMS Institute of Information Technology, Pune & Global Talent Track Pvt Ltd Pune on 10.3.2021 | Memorandum of understanding (MOU) Between AISSMS Institute of Information Technology, Pune & Prowisdom Growth Pvt Ltd on 25.03.2021 |
| | |
| --- | --- |
| | |
| Visit to Oytie Learning Solution Pvt Ltd Pune on 26.2.2021 | National Employability Award 2021 |