Upcoming Information Technologies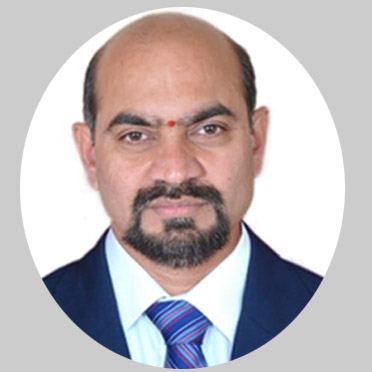 Mr. Kishor Wagh
Day to day activities of human is predicted by AI and machine learning, using deep learning. The upcoming technologies will be characterized by the latest sensor-based smart devices delivering more and more insightful digital services all over. These smart devices we call Intelligent Digital Mesh.
Intelligent means, AI and machine learning is in virtually every existing technology and creating entirely new classifications.
Digital means blending the digital and physical worlds to create an immersive world.
Mesh means exploiting connections between expanding sets of people, businesses, devices, content, and services.
Trends under each of these three terms are a key element in driving a continuous innovation process.
Even though science imaginary tale may describe AI robots as the bad guys, some tech giants now employ them for security. Parking and enormous outside areas to predict and stop crime.
The robots will browse license plates, report suspicious activity and collect data to report to their owners. These AI-driven robots are an example of "autonomous things.
As per the survey by the Gartner, Top 10 Strategic Technology trends highlight changing or not yet widely recognized trends that will impact and transform industries through 2023.
1: Autonomous Things
Autonomous things like cars, robots, drones use, AI to perform tasks conventionally done by humans. The complexity of the intelligence varies, but all smart autonomous things use AI and machine learning to interact more naturally with their surroundings. The autonomous devices are programmed beyond the rigid programming models and they deliver advanced behaviors that interact more naturally with their surroundings and with people.
Autonomous things exist across five types:
Robotics
Vehicles
Drones
Appliances
Agents
Those five types occupy four environments:
All smart autonomous devices are operating with varying degrees of capability, coordination, and intelligence. Autonomous things with different:
Capability such as

Human-Assisted
Partial Automation
Conditional Automation
High Automation
Full Autonomy

Coordination such as

Isolated
Independent
Connected
Collaborative (Swarms)

Intelligence such as

Dumb and Static
Semi-smart and Dynamic
Individually Smart and Dynamic
Collectively Smart With Dynamic Hive Interaction
For example, they can span a drone operated in the air with human-assistance to a farming robot autonomously works in a field. Collaborative autonomous smart devices such as drone swarms will increasingly drive the future of AI systems.
AI and machine learning driven autonomous devices to any physical object in your organization or customer surroundings, but keep in mind these devices are best used for narrowly defined purposes. The drawback of these devices is they do not have the same capability as a human brain for decision making, intelligence or general-purpose learning for different situations that are not programmed.
 2: Augmented Analytics
Through 2020, the number of data scientists will grow five times faster than specialized data scientists. Specialized data scientists use AI and machine learning powered augmented analytics tools that automate the data science functionality to

Automatically identify data sets
Develop a hypothesis
Identify patterns in the data.

As per Gartner survey up-to 2020, more than 40% of data science tasks will be automated by analytics and it increases productivity and a little bit used by data scientists. Using augmented analytics, data insights will be more broadly available across the business, including analysts, decision-makers and operational workers.
Augmented analytics represents a third major wave for data scientists to use automated algorithms to explore more hypotheses and accurate data patterns.
Augmented analytics automates the full process of data scientist such as

Data preparation
Insight generation of data
Insight visualization

The result of this, it will eliminate the need of 40% data scientists and gets accurate data pattern.
Augmented analytics focuses on a specific area such as augmented intelligence and machine learning (ML) to transform how analytics content is developed, consumed and shared.
In future augmented analytics will also be embedded in enterprise applications such as HR, finance, sales, marketing, customer service, procurement and asset management departments — to optimize the decisions and take actions on all employees.
 3: AI-Driven Development
As per Gartner prediction by 2022 at least 40% of new projects will have work together artificial intelligence developers with data scientists in their team.
AI-driven development has 3 dimensions are
The tools used to build AI-powered solutions are expanding from tools targeting data scientists to tools targeting the professional developer community.
The tools used to build AI-powered solutions are being empowered with AI-driven capabilities that assist professional developers and automate tasks related to the development of AI-enhanced solutions.
AI-enabled tools are evolving from assisting and automating functions related to application development (AD) to being enhanced with business domain expertise and automating activities higher on the AD process stack.
AI impacts on user experience, processes and analytic and AI exploit professional services such as Packed software or services, Platform services, and model as service and algorithm and model creation
Exploiting AI in the Development Process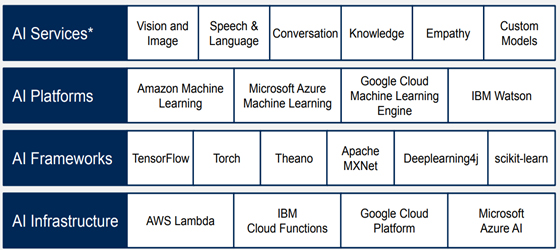 Applying AI to the Development Process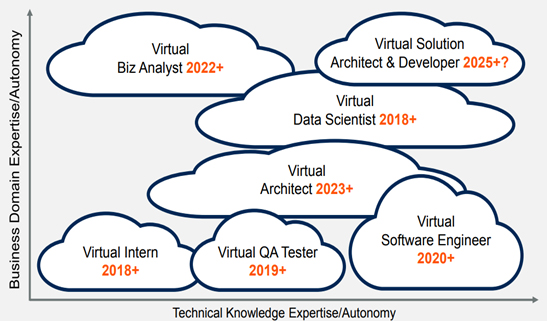 4.Digital Twin
Digital Twin is a digital representation of a real-world object, processor system. Today's digital twins are for the internet of things, it is used to improve enterprise decision making by providing information on maintenance and reliability, insight into how a product could perform more effectively, data about new products and improved efficiency.
A digital twin creates models of organizational process to enable real-time monitoring and drive improved process efficiencies.
As per Gartner estimates by 2020, there will be more than 20 billion connected sensors and endpoints and digital twins will exist for potentially billions of things.
Today 24% of Enterprises Implementing IoT Projects Are Using Digital Twins
Digital Twins Drive Digital Business to

Maintenance and reliability
Business process optimization
Monetization of data and models
To build new business models

Digital Twin of an organization is a dynamic software model of any organization that relies on operational and/or other data to understand its state, respond to changes, improve operations and add value. It includes a combination of Model, Metadata, Situation, Event Data, and Analytics.
5.Empowered Edge
Edge means endpoint devices used by people or embedded in the world everywhere. Edge computing is a computing topology in which information processing, and content collection and delivery, are placed closer to these endpoints.
Over the next five years, specialized AI chips, along with greater processing power, storage, and other advanced capabilities, will be added to a wider array of edge devices.
Through 2028, Gartner expects a steady increase in the embedding of the sensor, storage, compute and advanced AI capabilities in edge devices. In general, intelligence will move toward the edge in a variety of endpoint devices, from industrial devices to screens to smartphones to automobile power generators.
Intelligence and More at the Edge

The edge has many parts with different lifecycles creating complex and ongoing management and integration challenges.
Connecting the Edge with 5G- Faster Speed, Lower Latency and Greater Density.
6.Immersive Experience
Through 2028, conversational platforms, which change how users interact with the world, and technologies such as augmented reality (AR), mixed reality (MR) and virtual reality (VR), which change how users understand the globe, can cause a brand new immersive expertise.
All conversational platforms such as AR, MR and VR show potential for increased productivity, with the next generation of VR able to sense shapes and track a user's position and MR enabling people to view and interact with their world.
By 2022 70% of enterprises will be experimenting with immersive technologies for consumer and enterprise use, and 25% will have deployed to production.
The conversational platforms, which range from virtual personal helpers to chat-bots, will include extended sensory channels that will allow the platform to sense emotions based on facial expressions, and that they can become a lot of informal in interactions.
Eventually, technology and thinking will shift to a point where the experience will connect people with hundreds of edge devices ranging from computers to cars.
Due to conversational platforms, flipping the Interaction Model

Humans Learn and Adapt to Technology
Technology Learns and Adapts to Humans
People Will Demand Multi experience
The Environment Around You Is the Computer

Virtual, Augmented and Mixed Reality

Perception and interaction with services
Starts with visual and tactile
Content-focused

Immersive, Ambient User Experience

Contextual perception and interaction
Multiple sensory channels and device modes
Continuous, stateful across services and environments
Facilitates human and machine collaboration
Invisible, transparent and natural

Conversational Platform

Access and control services
Starts with language
Action-focused
7.Block-chain
Blockchain is a type of distributed ledger, an expanding chronologically ordered list of cryptographically signed, irrevocable transactional records shared by all participants in a network.
Block-chain allows companies to trace a transaction and work with untrusted parties without the need for a centralized party (i.e., a bank). This greatly reduces business friction and has applications that began in finance but have expanded to government, healthcare, manufacturing, supply chain, and others.
Block-chain has many advantages such as low costs, reduce transaction settlement times and improve cash flow.
The technology has also provided many block-chain-inspired solutions that utilize block-chain advantages and components of block-chain.
Block-chain provides an alternative trust mode and removes the need for central authorities in arbitrating transactions.
Block-chain will create $3.1T in Business Value by 2030.
What Does Block-chain Offer?

The Block-chain Ledger
Shared Digital Assets
Tokenized and Distributed
Immutable, Traceable Record
Decentralized Consensus Mechanism
Smart Contracts
Centralized Management
Controlled Access/Update
Alternative Consensus Mechanism
8.Smart Spaces
A smart space is a physical or digital environment in which humans and technology-enabled systems interact in increasingly open, connected, coordinated and intelligent ecosystems.
Today's technology becomes a more integrated part of users daily life, smart spaces will enter a period of accelerated delivery.
Further, other trends such as AI-driven technology, edge computing, block-chain, and digital twins are driving toward this trend as individual solutions become smart spaces.
Essentially, smart spaces are developing as individual technologies emerge from silos to work together to create a collaborative and interaction environment.
The most extensive example of smart spaces is smart cities, where areas that combine business, residential and industrial communities are being designed using intelligent urban ecosystem frameworks, with all sectors linking to social and community collaboration.
Smart spaces are physical or digital environments populated by humans and enabled by technology which are increasingly connected, intelligent and autonomous.
Smart Spaces Maturity Model has five key dimensions: Openness, connectedness, coordination, intelligence, and scope.

9.Digital Ethics and Privacy
Digital ethics and privacy is a growing concern for individuals, organizations, and governments. People are increasingly concerned about how their personal information is being used by organizations in both the public and private sector.
By 2021 organizations that bought compliance risk and are caught lacking in privacy protection will pay 100% more in compliance cost than best -practice -adhering competitors.
Billions of Endpoints Are Collecting Information

Move From Compliance-Driven to Ethics-Driven to Discern 'Right' From 'Wrong' and to Create Value

10.Quantum Computing
Quantum computing is a type of non-classical computing that represents information, expressed in single elements known as qubits. For example, electrons and ions that represent data as an as quantum bit called qubits.
As per Gartner prediction by 2023, 20% of organizations will be budgeting for quantum computing projects.
Quantum computing is exponentially scalable and highly parallel computing model. A quantum computer provides a solution to complex problems very efficiently as compared to a traditional approach.
Quantum computing supports real-world applications ranging from personalized medicine to optimization of pattern recognition. This technology is still in a developing state, which means it is a good time for industries to increase their business by an understanding of the potential of quantum computing.
Most enterprises could remain in the exploration phase through 2022 and begin exploiting the technology later.
Applications of quantum computers are automotive, financial, insurance, pharmaceuticals, military and research organizations.
By – Mr. Kishor Wagh