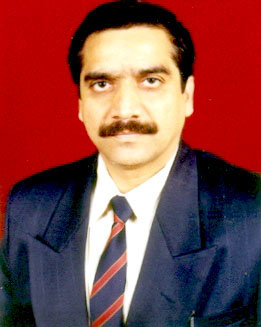 Email Id:- principal@aissmsioit.org
Dr. P. B. Mane – Principal, AISSMS IOIT
It gives me immense pleasure in welcoming you to All India Shri Shivaji Memorial Society's Institute of Information Technology .This institute is a constituent unit of All India Shri Shivaji Memorial Society which has strong historical backround.All india Shri Shivaji memeorial Society was established in 1917 by Hon'ble Shrimant Shahu Chhatrapati Maharaj in the memory of the great Maratha king Chhatrapati Shivaji Maharaj. Today there are 21 different institutes in AISSMS family.The institute's 3 courses are  accreditated  by National Board of Accreditation, Delhi and 4 courses have  permanent affiliation to Savitribai Phule Pune University.India today stands as world's third largest economic power, its economy growing at around 8%, Indian Entrepreneurs emerging as global entrepreneurs, Indians figuring increasingly in the list of the richest persons in the world, India's knowledge power making India as a preferred destination for out sourcing knowledge services from India, India fast emerging as a destination for world class R&D Centers and Innovation hub. Young friends, these are the signs of even a brighter tomorrow for India and its people.
You must, therefore, be highly excited to make your own contributions to the growth and development of India of your dream.
AISSMS IOIT  is among the top reputed technical institutes imparting high quality education. The evolution of the institute over the past one and half  decades has witnessed strong blend of state-of-the-art infrastructure and intricately intertwined human resource committed to provide professional education with thrust on creativity and innovation. Here, in AISSMS IOIT, we are imparting skills and knowledge to our students in best possible manner to make them employable and allowing them to dream big and helping them to achieve the same.The Alumni of the Institute have done exceedingly well in all spheres of life at both national and international levels and brought name and fame for themselves as well as to their Alma Mater. The Institute takes pride in their achievements
Reputed companies all over India  are key recruiters for our institute apart from academic activities, the co-curricular activities, sports, adventure, cultural and social- service activities, form important parts of the life of the students. Every year a national level tech fest-Alacrity is organised which provides a strong platform for more than 4000 participants from all over India to display their talent and skill .I assure you all that our team of dedicated and highly qualified faculty are totally committed to produce Engineers of a very high professional calibre to meet the growing and ever changing demands of global market and our students will serve our society with their technical proficiency.
In near future we are planning to be associated with various professional organization like National Entrepreneurship Network (NEN) and other institutes.
Dr A. P. J. Abdul Kalam has made one observation. He found in all successful people, world over, one thing common i.e. commitment towards their assigned / accepted work.
Here, in AISSMS'S IOIT, we are committed to impart necessary skills and knowledge to our students in best possible manner, spirit in good environment and allowing them dreaming big and helping them achieve the same.
Industry demands technocrat – leaders to serve various sectors. We all stake holders, including you, have to work in this direction to fulfill the dream INDIA – 2020.