Mr. Yash Sultania
Alumnus- AISSMS Institute of Information Technology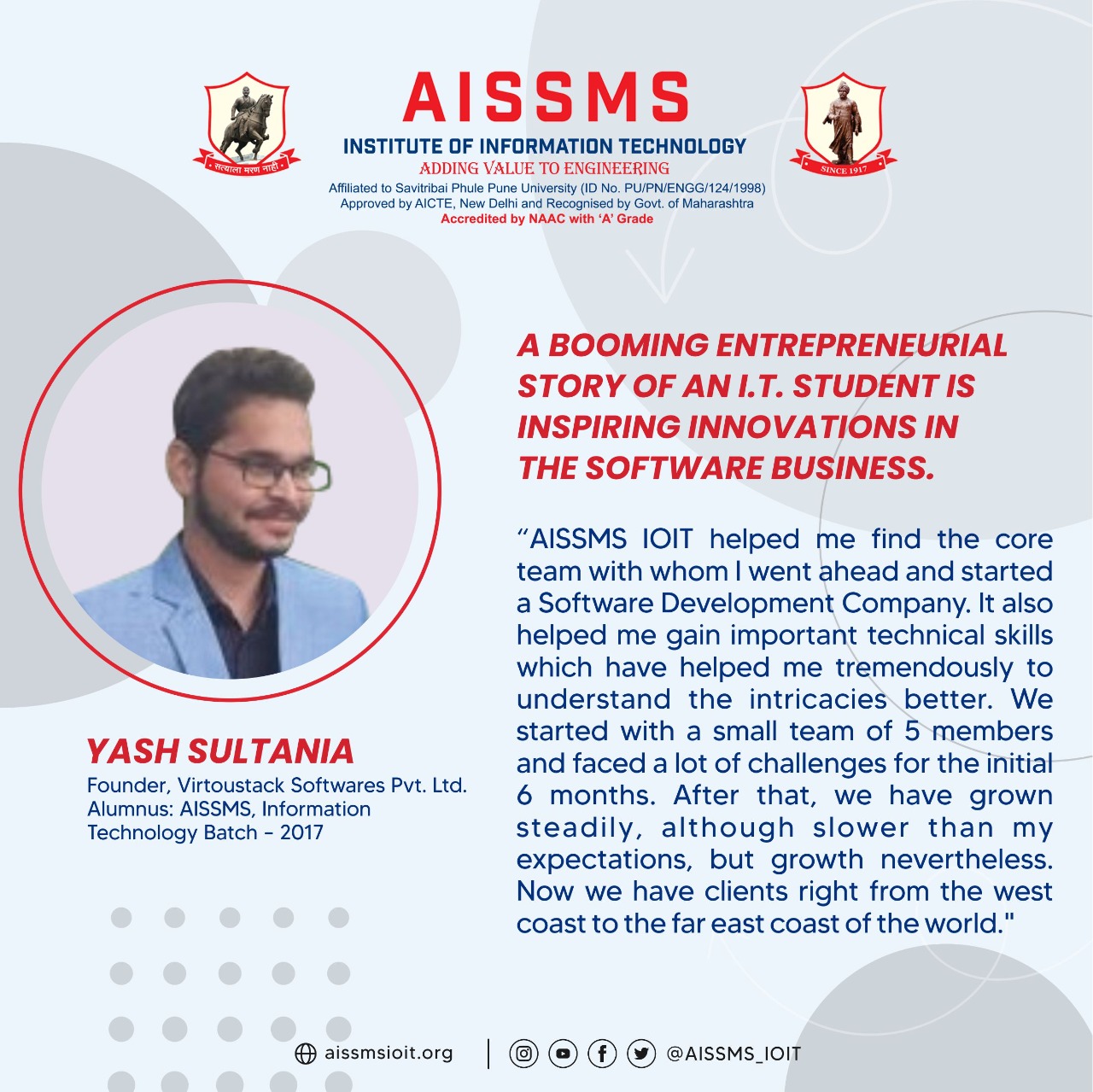 Mr. Yash Sultania, an alumnus of AISSMS Institute of Information Technology, was a very observant student during his graduation lectures. His passion for the field of technology was always evident in his semester results. He looked at every subject as a medium to supplement his technical knowledge. He appropriately developed his academic skills and graduated in Information Technology in the year 2017. In a recent interaction with him, he stated that AISSMS IOIT helped him find the core team members with whom he went ahead and founded a Software Development Firm.
"The latest progress in Digital Transformation considers Technology as a core instrument to further entrepreneurial boom."
After bidding farewell to AISSMS Institute of Information Technology, Mr. Yash Sultania got inspired to lay the foundations for his Start-Up Company – Virtoustack Softwares. He started off with a small team of 5 members and explored the challenges of building a company from the ground up. According to him, the initial 6 months were as crucial as they were challenging. After enduring those difficult months, the software company began following steady economic growth. Under the entrepreneurial leadership of Mr. Yash Sultania, the company is now attracting clients from faraway corners of a digitally interconnected world.
When asked about the challenges he went through in terms of capital and marketing, Mr. Yash Sultania gave us a very practical response. He mentioned that coming from a technical background, the idea of marketing surfaced as a very steep learning curve. He figured out the missing pieces of marketing by interacting with a number of experienced people belonging to the marketing field. Books, nonetheless, offered him enough insights into the market he was dealing with. In terms of capital, the software company is currently bootstrapped. A couple of investors are expressing interest in his company, but Mr. Yash Sultania is focusing less on investors and more on reinvesting the profits his company is steadily generating.
He stated that the pandemic is surely impacting his business but the company is still growing at a steady pace. As of now, the business is on its path to reach annual revenue of 2 CR for the fiscal year 2021-2022. Even better, the company is consistently generating employment for people with similar interests. To all the aspiring technical entrepreneurs, Mr. Yash expresses that like any other business, the struggles will always be there in the initial stages. One should always focus on the process and the results will arrive at the right time. AISSMS Institute of Information Technology is grateful to Mr. Yash Sultania for all the practical insights he offered to the upcoming leaders of technology. We wish that his business reaches the pinnacles of all success.