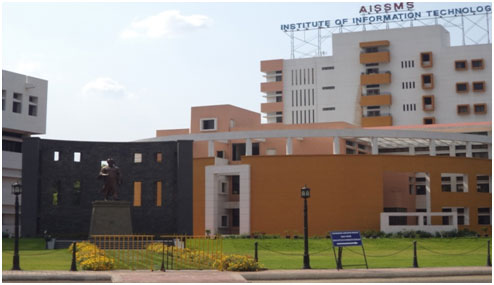 Today's professionals have to face changes which occur due to fast technological switch over. Technology is being used as a statistic weapon by organizations as well as nations. Continuous learning and updating knowledge with new technology is the right solution for any individual to cope up with emerging challenges.
All India Shri Shivaji Memorial Society's Institute of Information Technology, Pune was established in August 1999. The college is a self financing college and is affiliated to Savitribai Phule Pune University (SPPU). It is approved by AICTE and Director of Technical Education, Maharashtra State. The College is centrally located in the heart of Pune City about 1 km from Pune and Shivaji Nagar Railway Stations. The institute enhances the teaching learning experience by providing students greater resources, contact with industries and academia, employment opportunities and internships.
The institute has well qualified and dedicated staff with good infrastructure facilities for UG and PG courses in the form of well equipped laboratories in all the branches, namely, Computer Engineering, Electrical Engineering, Instrumentation Engineering, Electronics and Telecommunication Engineering and Information Technology. The Institute also has Research center for Electronics and Telecommunication Engineering.
The institute has received accreditation from National Board of Accreditation, New Delhi for Electrical Engineering and Instrumentation Engineering. The institute has also received Permanent affiliation from SPPU for Computer Engineering, Electrical Engineering and Instrumentation Engineering.
College has hostel accommodation for 200 girl students.
Vision: To uplift the common masses by rendering value added education.
Mission: Empowering Society through dynamic education
Quality Policy: We commit ourselves to provide quality education & enhance our students quality through continuous improvement in our teaching and learning processes.
Objectives:
To be nationally recognized as an educational institute that prepares students for successful professional career with high human values.
To provide students sufficient understanding of scientific and engineering fundamentals to become competent engineering graduates.
To provide expertise to students in experimentation ,analysis, designing, solving real time problems that promotes development of inter disciplinary research and application oriented products.
To develop multidimensional ,globally competent professional students community
To provide students joyful learning experience with learner centric teaching that leads to successful professional career equipped with lifelong learning skills leads to successful professional career equipped with lifelong learning skills
Course Undergraduate
Annual Intake
General Choice code
Course Postgraduate
Annual Intake
General Choice code
UG
PG
Computer Engineering
60
628224510
M.E
(Power Electronics & Drives)
18
628290220
Computer Engineering
(Second Shift)
60
628224520
M.E
(VLSI & Embedded Systems)
18
628234120
Electrical Engineering
60
628229310
Electronics & Telecommunication
180
628237210
Electronics & Telecommunication (Second Shift)
60
628237220
Instrumentation Engineering
60
628246610
Information Technology
60
628224610